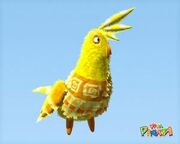 Feeding a Buttercup to a Sparrowmint turns it into a Candary.
Information: Not only is the Candary small and yellow, but it can "detect" poison gas in mines. Not only pretty but practical too.
Level: 2
Base Value: 600
RequirementsEdit
Romance Requirements Edit
Species variants for the Candary
Feeding it Gooseberry Fool changes its color to light green.
Changes base value to ???